Based on one episode,
true tears
is my favorite show of the new season. Some of the voice-acting is particularly good. I finally get why Takagaki Ayahi has suddenly become so popular. Her voice did little for me as Ruchia in
Venus Versus Virus
, but she gives Noe real character. And Takahashi Rieko's brief turn as the protagonist's mother was sharp and vivid.
The show also features Nazuka Kaori (Cossette, Eureka) and young Iguchi Yuka, who is gradually getting more and more good roles. The protagonist's friend is played by the handsome and talented Yoshino Hiroyuki, who was Zedd in
Kiba
.
I've made a
page with pics of the main characters and their

seiyuus
, including background info on the
seiyuus
.
And here's a cast photo from an
interview
with them on the official site. Back l-r: Ishii Makoto (Souichirou), Yoshino Hiroyuki (Nobuse); front l-r: Nazuka Kaori (Hiromi), Takagaki Ayahi (Noe), Iguchi Yuka (Ai):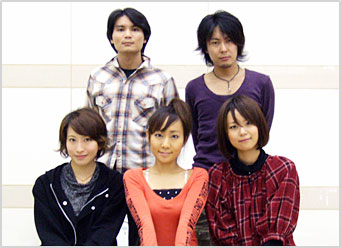 In the interview, Nazuka Kaori says the show has an adult flavor, and is the first show so much to her own taste that she's done in a long time. On her blog, she wrote that the emotions are painful, but there is a lot of subtlety in the acting, and that each episode requires study. She spoke of having to suppress emotions, and of the need to work on breathing. Takagaki Ayahi says she was so impressed with the script during the audition, that it doesn't have a contemporary feeling, but has a nostalgic Japanese atmosphere.